In the previous text, we talked about astrology as a symbolic expression of the physis, or so-called nature of living beings, primarily humans. We did this through a description of temperament and Destiny that unfolds as a necessity of the manifestation of that unique nature. In this text, we will basically follow the same line, but we will now deal with the concept of Time, as a key segment of that same physis and how it is manifested in astrology, making it complete in the symbolic description of the nature of the native. Since astrology is mostly a predictive skill, time is certainly its essential factor. It is the starting point of any interpretation, since if we do not have the time of an event, we do not have a horoscope. And even the word horoscope itself, etymologically, contains time, since it comes from the Greek ὡρόσκοπος, or ὥρα (hora) which means "hour or time" and σκόπος (skopos) – observer, observation, and ultimately we get "observation of time of … (birth, etc.) ". This is so because every being, or any other event and everything that occurs on this planet, is determined precisely by the time of its birth. Time summarizes all the qualities of nature in a given moment which is imprinted in the nature of the native like a seal, and therefore in his destiny. Time is also the greatest resource that man has at his disposal, but he is also always in race against it, and always lacks it, never able to catch it, man is torn between the past and the future. Time is a conflict of spirit, soul, and material body, for these three are united temporarily, by mortality. Ancient alchemists had a widely known secret formula for overcoming Saturn (Chronos – Time) which reads: "time should be mastered by the rhythm that will turn it into the eternal now".
This connection can be most obviously made by observing the seasons. The seasons are also basic division of time at the level of the year, and one of the principles that Zodiac is divided upon. So, the first three signs – Aries, Taurus and Gemini – embody the attributes of Spring, each in its own way: Aries, as cardinal, marks the beginning of that age, while the most typical characteristics of spring are embodied in Taurus as a fixed sign, and finally we have Gemini, which, as a mutable sign, still retains spring attributes but they are now largely mixed with summer. And so it is with the other seasons and the corresponding zodiac signs. The position of the Sun in some of them is our birthday, but more importantly, the symbolic attributes of that season are manifested in our temperamental structure, ie. nature or physis. Accordingly, the Sun in Aries will bring warmth and moisture, that is, sanguine temperamental expressions, as they are suitable for spring. From what has been said, it can be clearly seen how much we are really a part of the nature that surrounds us as just another offshoot of it, connected to it in the most mystical way, which we can interpret through astrological symbols.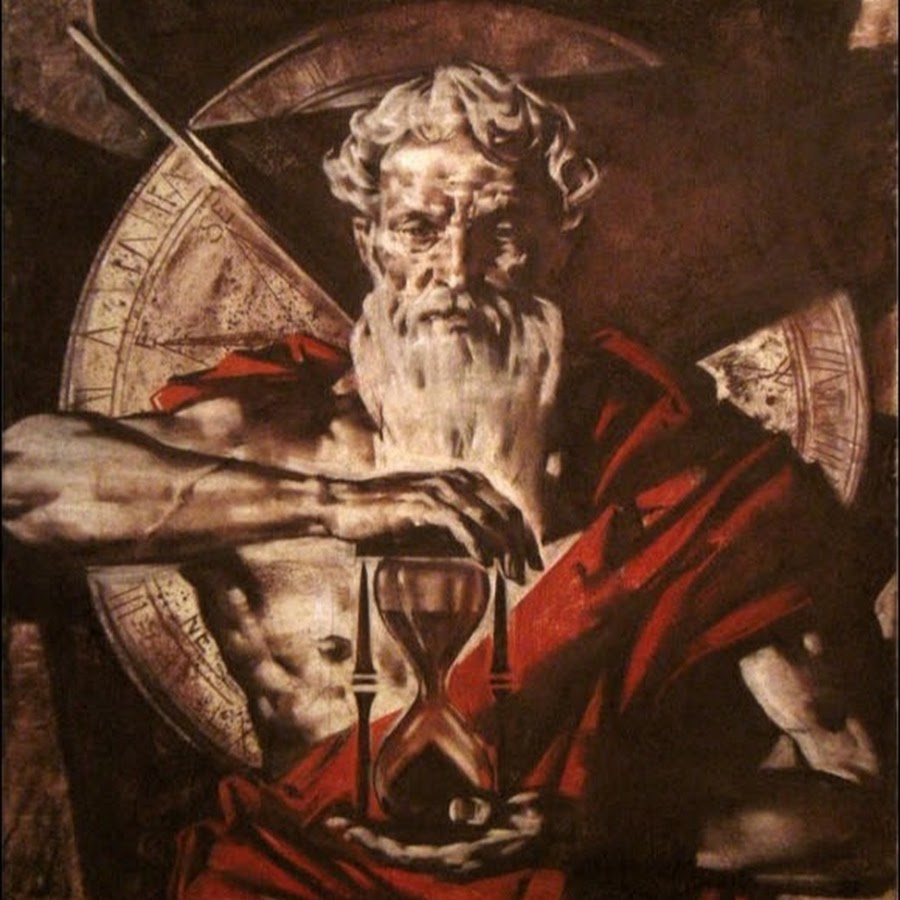 But, in addition to that, the basic premise is that Time is already inherent in all living beings, it is part of their own physis. This stems from the fact that Time is Numinous – that is, of living beings, and thus biological not linear (of-causality). Accordingly, Time varies according to Physis. That is, varies according to the nature, the character, of the living entity that manifests – presences – it, so there are a variety of different species of Time. Each living being has a Fluxion (since Time is a Fluxion) appropriate to – which re-presents/manifests/presences – its physis and thus which is appropriate to/manifests its type/species of life. Therefore, our kind of Time, us as humans, is different from those that correspond to other life forms. We can clearly witness this by observing the nature around us and thus see how different forms of life have some time of their own that is part of their nature, as the appropriate processes of their development take place when the time comes for it. So, animals have mating seasons, migration seasons, hibernation seasons, all in accordance with the fluctuations in Nature that activate their internal cycles. Although these processes can be monitored at the species level, they are equally individual, because not every bear goes into hibernation at the same time, but each of them does so in accordance with its inner time, which dictates the pace of their development and ultimately evolution. It's the same thing with plants, and of course with humans. It should be noted that this flow is not linear, but more spiral, since some of the same seasons are repeated at regular intervals, but each time at a different level from the previous one, so there is no repetition as such, no matter how it appears on the outside. That illusion of repetition and identicality, ie. a line that goes only forward, has given us yet another abstraction of the calendar measurement of Time, although it does not coincide with our actual, inherently own time. So, not all people that are 40 are equally old. Nor does spring come every year in every place on March 21st. Yet it seems that the people here have once again exchanged essence for form, giving precedence to the latter, though aware of its incompetence. The primary purpose of the calendar seems to have been forgotten, and that is to be a symbolic representation of Time, not its faithful indicator.
It should certainly be noted that all these individual times are subordinated to some higher fluctuations of Time and cannot "override" them, more precisely, they are only their segment. Each of those greater Time cycles possesses some of its own characteristics, some of its own zeitgeist (spirit of time), and human natures and their times are subordinated to that spirit, i.e. to his aeonic or evolutionary force, so man is "… just a straw among the 'whirlwinds.' In this broader perspective, human natures do not necessarily embody all the characteristics of the given Age, they can be its antithesis, and perhaps the harbingers of some Change, but all this still remains as "Nature's intent" that we talked about in the previous text. So some Times will favor bad people, without honor and morals, as leaders in those periods, giving them the highest functions and titles, while those who are different, precisely because of their nature, thay are simply lost in that whirlpool, that is, they are in a certain discrepancy with the course of Time, either late or in a hurry, while the natures of these others are synchronized with that course. Of course, it is clear that leaders are only an expression of a collectively unconscious need, and perhaps the latent aspirations of the majority towards that same way of life and such a character for which there is secret admiration. From what has been said, it can be seen what kind of feedback mechanism is in force here and how the change of consciousness can give an evolutionarily progressive momentum, but like a pendulum, it can go in opposite direction. However, this is already a story for a new text that will deal with these larger time cycles, also known as the Ages or Aeons, and especially because we are close to a new one, Aquarius.
But let's get back to the key topic. So, each person has its own time, period or season in which his potential matures and reaches a peak, so there are no regularities, although generalizations of this kind are somewhat symbolic and appropriate. Because just as it is true that everyone has their time, it is equally true that everything has its time. This Flow in astrology is represented through seven phases or periods in life, corresponding to the seven planets – starting from the Moon and, in the Chaldean order, all the way to Saturn. Life is divided into periods of planetary rulership so that the period of the first four years is ruled by the Moon, then to the sixteenth by Mercury, Venus from 16 to 22 and then from 22 to 42 is the period of the Sun, then to the age of 56, of Mars, when Jupiter takes rulership up to 69 and then, for the rest of life, Saturn takes over. All those times were beautifully described by Shakespeare in his play "As you like it":
"(…) All the world's a stage,
And all the men and women merely players;
They have their exits and their entrances,
And one man in his time plays many parts,
His acts being seven ages. At first, the infant,
Mewling and puking in the nurse's arms.
Then the whining schoolboy, with his satchel
And shining morning face, creeping like snail
Unwillingly to school. And then the lover,
Sighing like furnace, with a woeful ballad
Made to his mistress' eyebrow. Then a soldier,
Full of strange oaths and bearded like the pard,
Jealous in honor, sudden and quick in quarrel,
Seeking the bubble reputation
Even in the cannon's mouth. And then the justice,
In fair round belly with good capon lined,
With eyes severe and beard of formal cut,
Full of wise saws and modern instances;
And so he plays his part. The sixth age shifts
Into the lean and slippered pantaloon,
With spectacles on nose and pouch on side;
His youthful hose, well saved, a world too wide
For his shrunk shank, and his big manly voice,
Turning again toward childish treble, pipes
And whistles in his sound. Last scene of all,
That ends this strange eventful history,
Is second childishness and mere oblivion,
Sans teeth, sans eyes, sans taste, sans everything."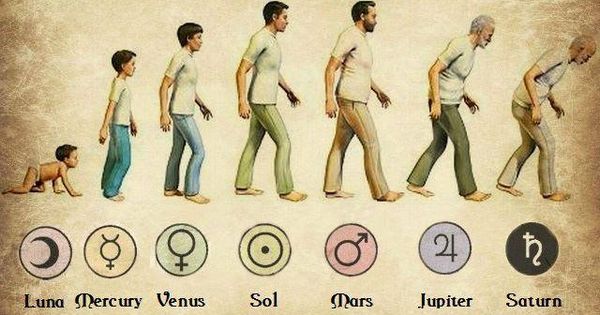 Seven stages of Life
As we can see in this most general division, the Moon rules the period of the first four years of life, which is quite corresponding to the fact that this is the period when children mostly absorb impressions from external reality, to which they react only emotionally and unconsciously, when they are very dependent on their mother, so everything symbolically corresponds to the Moon. The experiences that the native will have in that period are portrayed by the natal position of the Moon. Therefore, although this period is somehow universal for all people at that age and experiences are similar, the real experiences will again be individual, conditioned by natal predispositions. Like in some of the previous writings, I would present this principle again through Mars and Venus. In that respect, it has always been interesting to me how, for example, certain professions, such as modeling, have a precisely timed period when those careers can begin, and that is exactly the period of Venus, that is in those adolescent years. Likewise, men generally experience their zenith in the forties, which is the period of Mars, while in women it is the opposite, since that is when menopause occurs. It is worth adding that the temporal conditionalities in this division also derive from the previous observation about humors in the body. So we have that the sanguine period is characterized by the first quarter of life and blood as the appropriate life juice, and so on to the cold and moisture of phlegm and black bile, so it is not surprising that this end of life belongs to Saturn, which unites it all with its symbolism. Even in colloquial terms, we come across these parallels, such as "autumn of life", etc. This division of Time is further "brought down" by astrological predictive techniques to an increasingly individual and thus unique experience. Thus we have Firdaria periods which are the division of life into planetary periods, also according to the Chaldean order, but starting from the ruling luminary at the time of birth, i.e. the Sun in day and the Moon in night births, so these periods are interpreted in accordance with the natal position of the corresponding planet. Furthermore, more and more concrete techniques such as Firdaria subperiods, profections, primary directions, progressions, planetary, solar and lunar returns, which increasingly specify a certain time for an event, fit into this framework.
One of the primary considerations when interpreting the natal chart is the assessment of life expectancy, ie. our very lifespan is contained in the natal chart. This assessment starts from the hyleg, the planet or point that is the carrier of life force, and its ruler, known as the alcohoden. Alcohoden is the planet that has the most dignity in the place of hyleg, and according to some authors, it also has to aspect it. Each planet can assume the role of alcohoden and each one of them have their small, medium, larger and highest years, and these are assigned depending on the strength of the planet that is an alcohoden in natal. Lifespan can also be determined by the encounter of the hyleg with the anareta (the point of the destroyer of life) in primary directions. However, what is important here is the correlation of the assessment of the life force or strength of a horoscope, and thus the nature and constitution of an individual, with the duration of his life, and thus indicating how time is woven into the physis of the individual.
From this it is clear how Time is inherent in the nature of beings, for the potential promised by the natal chart will not be reached until it is symbolically activated by astrological predictive techniques, that is, before the Time for it comes. In accordance with the previously described, it should not be understood that these techniques condition or cause anything, they only symbolically show that my / your / her time has come. So, although it is considered that the third decade of life is ideal period for marriage , it will not always be so, but everyone has their own time when he will attain that experience most completely. It is the same with career, and generally with luck or misfortune in life. Some people experience peaks in their older years, or earlier in their youth, although according to the general division, the zenith of life is in their 40s. By considering the natal chart, we can see what the natal potential of the native's physis is, and how it, as an expression of its nature, will unfold through Time, in a completely unique way. The composition of the personality affects the pace at which things happen in a person's life, ie. that tempo is contained in his nature, so someone will patiently and diligently build their achievements, someone will conquer them by assault and through struggle, someone will frustrate themselves again and again by giving up and retreating, and so on, everyone in his own rhythm unravels that fine weaving of their nature, at the same time getting to know and build themselves through consequential experiences. Astrology, as the language of Nature, in its symbolism abstracts all these aspects, allowing us an insight into that eternal Mystery that is Life.
All this ultimately leads us to the fundamental principle of Hermeticism – "as above so below." The time cycles of the cosmos seem to be in a certain correlation with the inner cycles of human nature and its development, because there is an obvious synchronicity between the movements of celestial bodies with changes and events in human lives. Because the thread that connects the macrocosm and its cycles with our microcosm and its cycles is unbreakable. As we said earlier in the text The Question of Fate in Astrology, this connection is not causal nor can it be explained by some exact methods of modern science, it is simply mystical, presented in the only language by which it can be explained, by astrological symbolism that allows us to penetrate this connection and learn more about ourselves and our nature. Because of this described comprehensiveness and richness of symbolism that extends to all levels of existence and at all times, astrology will always possess the keys to the treasury of the Wisdom of Life!