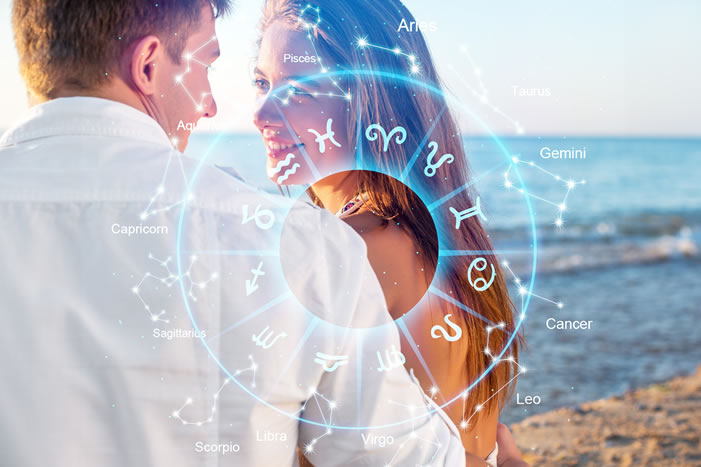 Synastry is a branch of astrology that uses many different techniques to analyze the compatibility of two people in a relationship and to evaluate the capacity and significance that relationship holds for their lives. The starting point is the comparison of two natal horoscopes, which provides valuable information about the level of compatibility, that leads to the conclusion about the significance of that relationship. Some relationships are fated, deep and lasting, some superficial and transient, some are open hostilities that can even be fatal, and therefore it is very important to have insight into the importance and quality of a relationship in order to better position or engage in that relationship. This is exactly the kind of information that this reading provides.
Data required
Date of Birth: The day, month and year of birth of both persons in question
Location: City, or nearest major city, and state for both
Time of birth: This information is especially important for both people, because the date alone is not enough. This is because the key information in this interpretation is obtained from the comparison of two natal horoscopes, and it is therefore crucial that we have accurate data. It is advisable to always state how reliable your birth time is (known from your birth certificate, told by your mother, etc.)
Other: It is advisable that you also provide some information about the nature of the relationship – whether or not you are with that person in an existing relationship, when the relationship started, were you in a relationship before, and have now broken up and the like. This information will greatly help you to get a very accurate answer to a question about a particular relationship.
How are the consultations conducted?
– Consultations are conducted in person, ie. live in conversation with the client, via the Internet (Skype or Viber), or interpretation can be sent in pdf to your e-mail address
– Consultations are not limited in time, although they usually last 60 minutes
– If you chose live consultation, some of the most important information from the reading will be forwarded to you by email
Scheduling and paymentt
– Scheduling is done via the form on the contact page or by calling or sms on +382(0)69 74 93 92
– It is advisable to include as much of the information described above in the message
– The cost of interpreting a comparison horoscope is 80 eur. This price includes the preparation time before the consultation and the consultation itself.
– Payment is made through the bank account, Western Union or other available postal services. Payment instructions will be forwarded to you in due time. Payment can be made in advance or when interpretation is ready
– The consultation will be scheduled within 5 to 7 business days of receipt of the request
If you opt for this interpretation, you are agreeing to our Terms of Use.